Game Assets
Food and Consumables Pack Released!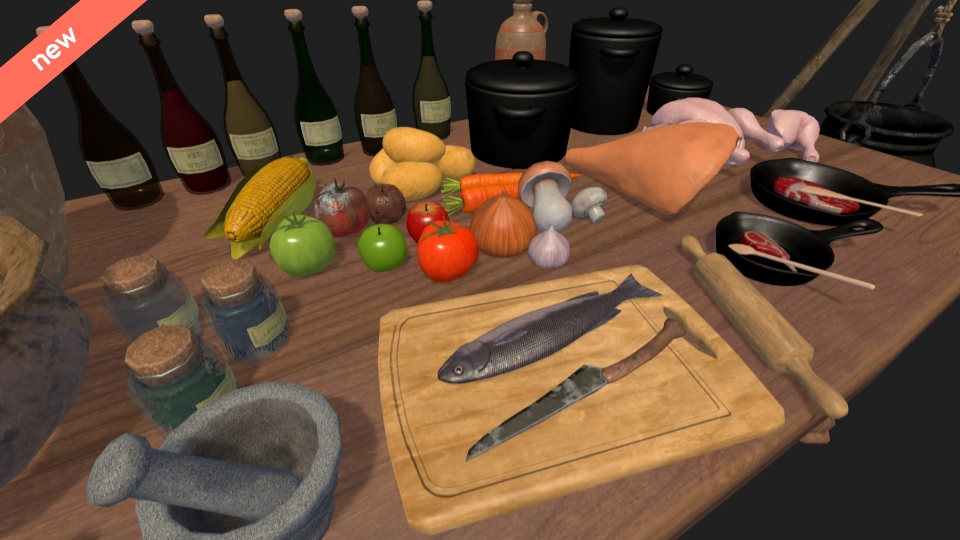 Our latest Asset Store release has been approved! Introducing: Food and consumables pack for Unity3D. This pack contains 140+ prefabs, including our traditional potica!
Introducing highly detailed food, consumable and healing items pack with various utensils. Use them as consumable items or to decorate your scenes. Feed and take care of your adventurer! Apply your own designs to some of the items, since the pack also provides blank versions of textures. Assets are highly optimized and were made using Universal Render Pipeline (URP). You can easily convert them to HDRP or built-in render pipeline if needed.
Key Features
142 Prefabs altogether
48 Food prefabs
38 Medical items and potions
38 Dishes to place your food and drink into
Optimized colliders,
Created and compatible with Universal Render Pipeline (URP).
Included Assets
Apples (3x), Bread (3x), Mushroom (2x), Carrot (2x), Cheese (2x), Chicken (6x), Corn, Egg (3x), Fish (2x), Garlic, Onion, Orange (2x), Pear, Pie (2x), Pomegranate (2x), Pork Leg (2x), Potato, Potica (2x), Steak (4x), Sausage (2x), Tomato (3x), Stew (2x), Bandage(2x), Jar of Herbs (3x), Satchell (3x), Syringe (3x), Tincture Bottle (3x), Potions (18x), Ceramic Jug (2x), Ceramic Flask, Wine Cup (4x), Wine Bottles (9x), Beer Tankard (4x), Bowl (2x), Plate (6x), Iron Pot (3x), Ceramic Pot (2x), Cauldron, Cast Iron Pan (2x), Cutting Board, Knife (3x), Spoon (4x), Fork, Spatula, Mortar and Pestle, Candlestick, Shelves, Table, Chair, Rolling Pin
Technicalities
Textures sizes from 256 to 4k,
Poly count from 154 to 2300 (check documentation for detailed information table)
Compatibility
Made with Unity 2020 LTS but works with earlier versions,
Universal Render Pipeline (URP) supported.
Social
Back to blog